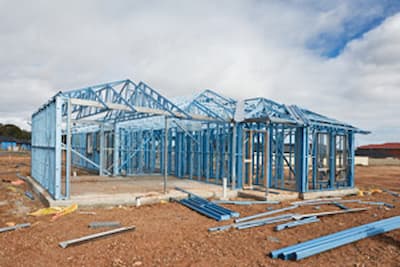 When you work with our construction team at KC Construction of Georgia Inc. for your Atlanta area commercial building project, you'll get only high-quality framing. Our carpenters will ensure your building project goes safely, smoothly, and professionally.
You want to hire commercial construction pros who can handle all your building and remodeling needs with expertise, and our carpenters are your go-to team. Every commercial construction project should have a solid frame and sturdy foundation to support the rest of the building.
Whether you need framing for remodeling, renovations, or ground-up new construction, our services will meet your commercial building needs. You'll have superior commercial framing services that ensure your building can stand up against the tests of time with a framework that gives your structure exceptional support.
Commercial Framing Carpenters at Your Service
Your building project needs a quality framework done by professional carpenters experienced in the commercial construction industry. Our contractors are fully versed in all aspects of the commercial building industry, including framing.
Whether you're remodeling, renovating, or building for a new office building, medical facility, apartment building, factory, auto dealership, government office, municipality service, library, resort, hotel, retail shop, nightclub, or restaurant - we've got you covered. If your construction project entails starting with new construction, you'll need quality framing to ensure your building is built on a solid support structure.
The framework supports the building, so you want to be sure your contractor has plenty of experience to handle the job right. KC Construction of Georgia Inc. handles many projects for the commercial industry, and with every job we complete, we stand behind our goal to give you complete satisfaction.
Your framing project will go smoothly and be handled with high-quality workmanship. We'll even be there to take care of the next step: drywall.
Why KC Construction of Georgia Inc. Is Your Top Choice For Framing
You can always count on our expertise for your projects. When you're looking for a company that can do it, including quality framing, you want KC Construction of Georgia Inc..
Our commercial contractors have the expertise and dedication to the highest quality workmanship to ensure your project is a complete success. From intricate building plans to innovative remodeling, your framework will be strong and sufficient to meet your building needs. As specialists in commercial construction framing, our contractors take expert care of your project needs. With our team you'll have:
First-Rate High-Quality Workmanship
100% Job Satisfaction Guaranteed
Since 1986 we have gained experience in all aspects of commercial building
Fully Licensed & Insured
Expertise from a family-owned business
For the finest in framing for your Atlanta area commercial facility, give our experts a call.
---
Recent Articles & Tips
Top Three Things To Consider Before Your Retail Build Out

When starting a commercial construction job for a retail build-out, your customers should be your priority. Failure to plan without your customers in mind is a mistake that could cost you dearly. The goal of making changes to a building to better accommodate your current and prospective […]

Why You Want A General Contractor For Your Construction Projects

There's one thing that's certain in life, and that is that things change. It's also true that very often that change is a good thing. This is true when you're planning to remodel your commercial property. Changing it means you're adding value by updating it to meet […]