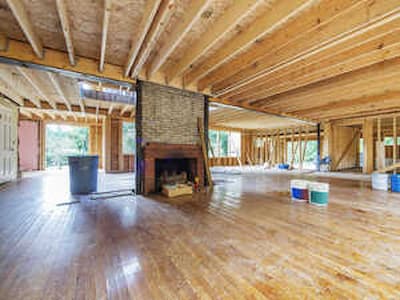 If you're in need of commercial construction or renovation services in Canton, KC Construction of Georgia Inc. is the company you can count on for quality results. We have over 30 years of experience providing top-quality project management, demolition work, construction, and remodeling services.
Our crew of talented commercial contractors offers the highest level of workmanship. As a family-owned company that's been serving the construction and remodeling needs of businesses in Canton since 1986, we take pride in our work.
We genuinely care about the community we live in - that means we'll treat you with the highest customer service level and make your project's results in our priority. Don't settle for anything less than the best when it comes to the work that goes into making your business a success.
High-Quality Work From This Canton Commercial Construction Team
In addition to painting services, our commercial contractors also provide carpentry, build-outs, new construction, exterior renovation, and a variety of other services. Our areas of expertise include remodeling, renovations, and general construction services for commercial business property owners in Canton.
From our full range of commercial remodeling services to our skilled project management and commercial construction, KC Construction of Georgia Inc. is the #1 local contractor you can turn to for all your building and remodeling needs.
Call us today to discuss your commercial construction needs with our Canton experts. You'll get first-class treatment every step of the way!
Meet the General Contractor in Canton That Cares
You can take a gamble and choose any local contractor or make a careful and well thought out decision. Locals choose KC Construction of Georgia Inc. because we're known for completing top quality commercial construction projects.
You can rest assured that your job is in good hands when you opt to work with us for your commercial renovation and building needs. We offer a wide catalog of services too, such as:
Construction Management
Pre-Construction Services
Acoustic & Drywall Suspended Ceilings
Site Survey
Historic Home Restoration
With our extensive background in building and remodeling, we can provide you with top-quality results without sacrificing quality workmanship or building materials. We'll help you from your project's concept to the final touches, ensuring you get exactly what you want out of your commercial remodeling investment.
The smart thing to do is give us a call and schedule your service as soon as possible. The quicker we can begin working on your project, the sooner you can start seeing revenue results.
---
Recent Articles & Tips
Top Three Things To Consider Before Your Retail Build Out

When starting a commercial construction job for a retail build-out, your customers should be your priority. Failure to plan without your customers in mind is a mistake that could cost you dearly. The goal of making changes to a building to better accommodate your current and prospective […]

Why You Want A General Contractor For Your Construction Projects

There's one thing that's certain in life, and that is that things change. It's also true that very often that change is a good thing. This is true when you're planning to remodel your commercial property. Changing it means you're adding value by updating it to meet […]