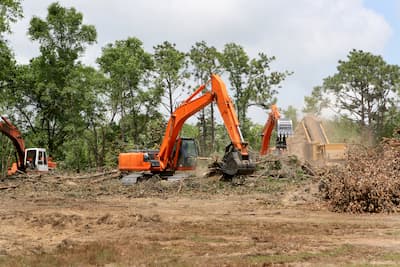 When it comes to demolition work, KC Construction of Georgia Inc. is the company you can rely on for efficient, quality results. We're the preferred local commercial construction pros and demolition specialists.
We have a hardworking crew of some of the best and brightest in the industry. We'll have your commercial construction work completed on time and according to your specifications with precision and ease.
Sometimes, you'll need first to tear down when taking care of your commercial property before you can rebuild with our ground-up construction. As experienced contractors, we're well aware of what our customers will need, and we're sure to provide that for them.
High-Quality Demolition Work From Industry Experts
As local general contractors, all work is managed by our team. You may need demolition for:
Interior Demolition and Strip Outs
Selective Demolition
Flooring Removal
LEED Documentation
Storm Response
Insurance Claims
Erosion Control
Burned/Damaged Building
Renovations
Remodeling
Build-Outs
Shop Fitting
Often before building projects, the previous structure needs to be removed entirely. If you need to tear down a building, you'll want our experts at KC Construction of Georgia Inc..
We can also take care of tearing down and removing your old building to start fresh with a new plan. We'll provide all of the demolishing for your project when you need the interior gutted for a complete commercial remodeling project.
Whether it's an entire building or just the whole interior, our construction contractors have all your needs covered! Our team offers various commercial construction and remodeling services, including demolition work to prepare for new construction.
Why Trust Us For Your Commercial Demolition Needs
Taking care of all your needs during your project is essential to us. Offering demolition work is just a part of giving our customers excellent, full services so that all the project specifics can be taken care of by our crew.
After all, we know you don't want to be served with all your other project needs only to have to hunt down your own demolition crew. Since 1986, our company of experts has gained extensive knowledge of building design, architecture, and materials, resulting in exceptional craftsmanship.
We offer a wide array of general contracting services, including design and build. Call us today to speak with a reliable Atlanta remodeling contractor about your demolition project.
Construction Demolition
Demolition Recycling
Commercial Demolition
Building Demolition
Retail Demolition
Business Demolition
Renovation Demolition
Remodeling Demolition
Demolition Contractor
Demolition Company
Demolition Estimate
We'll provide you with an up-front estimate and more details on our full range of commercial services. There's no reason to settle for anything less than the best when you're building and when you're tearing down.
---
Recent Articles & Tips
Top Three Things To Consider Before Your Retail Build Out

When starting a commercial construction job for a retail build-out, your customers should be your priority. Failure to plan without your customers in mind is a mistake that could cost you dearly. The goal of making changes to a building to better accommodate your current and prospective […]

Why You Want A General Contractor For Your Construction Projects

There's one thing that's certain in life, and that is that things change. It's also true that very often that change is a good thing. This is true when you're planning to remodel your commercial property. Changing it means you're adding value by updating it to meet […]