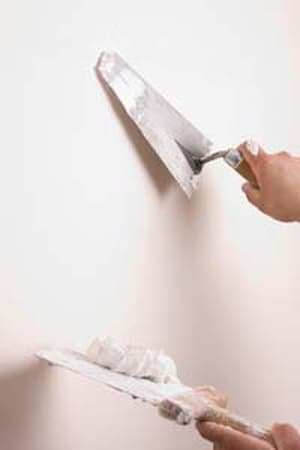 Our Atlanta drywall services offer you expert repairs, including complete drywall and sheetrock repair. When it comes to commercial drywall repairs or replacement, we know you want the best there is to work on your building's interior.
When you need a crew for trustworthy commercial construction, that's where KC Construction of Georgia Inc. comes into the picture. We offer only the best when it comes to your commercial construction installation and repair needs.
From installing walls for new construction or replacing sections during repairs, remodeling, wall moves, and more, we do it all. Our crew of general contractors and drywall specialists will ensure you get a flawless finish every time!
Proper Drywall Preparation & Repair Service
When you have as many years in the business as we do, you learn a thing or two about proper surface preparation when making commercial drywall repairs. The first step will always be to determine the condition of the surfaces to be repaired.
We'll be checking for leaking or water damages that require specific primers to cover. Your dents, holes, corner beads, cracks, and loose tape will be identified and then appropriately repaired. Heavily damaged areas will require complete replacement.
No matter what type of issue you have with your wall, don't let your drywall mishaps take away from the beauty of your commercial property's interior. Has a tenant moved out of your commercial building recently and left your drywall in disrepair?
Not to worry, we'll restore it for you fast. We can fix all the little damages as well as install new or replace all the walls. We provide you with expert painting and finishes as well, which gets your property restored right and ready to go.
Why Choose Us For Your Commercial Drywall Installation or Repairs?
We offer only top-quality services for our customers. As general contractors, we ensure that all the work done by our crew is professional and of the highest quality.
We can assist you with this and more:
Drywall repairs
Drywall replacement
Drywall installations
Remodeling
Touch Ups
Finishes
Textures
Sheetrock repairs
Interior repairs
Drywall patching
Commercial remodeling
Give us a call today to learn more about our commercial services or to receive an estimate for your drywall needs. Your local drywall repair specialist at KC Construction of Georgia Inc. can come and take care of your commercial construction needs in no time at all!
Give us a call today for drywall service in Atlanta. We care about your commercial facility and business.
---
Recent Articles & Tips
Top Three Things To Consider Before Your Retail Build Out

When starting a commercial construction job for a retail build-out, your customers should be your priority. Failure to plan without your customers in mind is a mistake that could cost you dearly. The goal of making changes to a building to better accommodate your current and prospective […]

Why You Want A General Contractor For Your Construction Projects

There's one thing that's certain in life, and that is that things change. It's also true that very often that change is a good thing. This is true when you're planning to remodel your commercial property. Changing it means you're adding value by updating it to meet […]