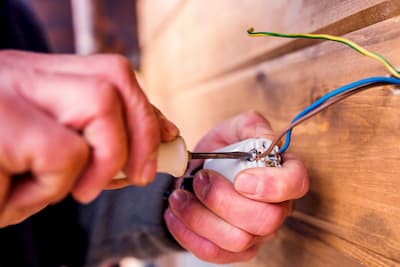 KC Construction of Georgia Inc. is a preferred resource in Atlanta for commercial electrical services. There's not a single commercial construction (blue) job that takes place that doesn't require the expertise of a licensed electrician.
The good news is that by working with our team, you already have that electrical expert - there's no need to hire a separate specialist. For any job that we do, project safety and customer satisfaction are the top priorities.
However, this is especially true when it comes to working with electrical wiring, fixtures, and appliances. For the best quality concerning your commercial electrical services, give our trusted team a call.
We're Known for Our Electrical Expertise
At KC Construction of Georgia Inc., we're ground-up construction (orange) experts, and that includes taking care of the electrical work. We want every job to happen safely and swiftly.
Some of what we address as far as commercial electrical services, include:
Installations and Replacements
Commercial Specialty Lighting
Updates and Upgrades
Energy Audits
Safety and Security
Diagnosis and Repairs
No matter what type of business you're running or starting, the electrical system will play a significant role. You need dependable access to the electrical components, and that means being confident every detail is working at all times.
The adequate amount of wiring and lighting also has a direct impact on the aesthetics of your business, as well as helps set the mood. Make sure that you're creating the right atmosphere for your commercial space with your electrical layout design, installation, and maintenance.
Taking Care of the Electrical Needs of Your Business
Every type of business and commercial facility requires an adequate amount of electrical wiring. It's also necessary to make sure that those components are correctly and safely installed.
Some examples of local organizations we've partnered with for electrical work include:
Retail Shops and Boutiques
Hot Yoga and Bikram Studios
Restaurants and Cafes
Medical and Dental Offices
Salons and Spas
Manufacturing and Warehouses
You could be adding the most expensive type of light fixture or electrical appliance, but it's as much about the installation behind the scenes. You need high-quality lighting and electrical work to have a safe and functional wiring system.
You can also rest assured that the work will be up to date with code regulations. We stay current, so we can always be in compliance.
Don't put yourself, your staff, your customers, or your business at risk! Call us to schedule all the commercial electrical services you need for your commercial facility in Atlanta.
---
Recent Articles & Tips
Top Three Things To Consider Before Your Retail Build Out

When starting a commercial construction job for a retail build-out, your customers should be your priority. Failure to plan without your customers in mind is a mistake that could cost you dearly. The goal of making changes to a building to better accommodate your current and prospective […]

Why You Want A General Contractor For Your Construction Projects

There's one thing that's certain in life, and that is that things change. It's also true that very often that change is a good thing. This is true when you're planning to remodel your commercial property. Changing it means you're adding value by updating it to meet […]