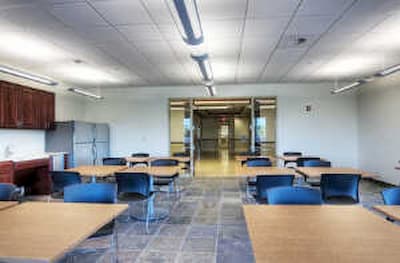 For the best in drywall suspended ceilings around the Atlanta area, you want our experts at KC Construction of Georgia Inc.. Remodeling and renovating can involve many projects requiring a high skill level, and repairs or installations of acoustic and drywall suspended ceilings.
Drywall or acoustic suspended ceilings are the perfect ceiling type for many commercial buildings. They're easiest to repair, are complex yet easy to install, and are the best options in many cases for your business.
If you put your trust in the wrong contractors, you could have serious problems down the line, requiring you to have the mistakes fixed or the project to have to be done over again. We're the commercial construction specialists to rely on when you need the best; our team has the skills and equipment to ensure your walls and ceilings are installed the right way.
Acoustic Ceilings Are A Great Way Finish Your Space & Reduce Ambient Noise In Your Business Space
Our company has been a fixture in the commercial construction industry since 1986. We've earned our flawless reputation in the area for our quality craftsmanship, professional customer service, and ability to finish projects on time and within budget.
Rather than going with someone with little experience, choose our professionals at KC Construction of Georgia Inc., and your ceiling project will go smoothly and look great! We're skilled experts when it comes to drywall suspended ceilings.
These ceilings are ideal for many commercial applications, including for interior and exterior ceilings. The suspension system provides an area of access to the commercial buildings wiring, plumbing, HVAC system, and more for more straightforward repairs.
When we consult with you about your ceiling needs, you'll have many options in textures and styles for your suspended ceiling drywall panels or tiles. We're sure to help you find a design style and material type that's perfect for your commercial space.
Today's options come in many decorator styles that include different textures and patterns for a unique look.
Why Choose Us For Your Acoustic & Drywall Suspended Ceiling?
If you are looking for someone to design, build, and finish your acoustic or drywall suspended ceiling, give your expert Atlanta remodeling contractors at KC Construction of Georgia Inc. a call today. We'll provide you with a quote for the cost of your project as well as more information on our full range of commercial services besides just ceilings, like retail build-outs.
Drywall & Acoustics Experts
Expert Ceiling Repairs & Installations
Commercial Renovations & Remodeling Specialists
Top-rate Workmanship
Impeccable Results
---
Recent Articles & Tips
Top Three Things To Consider Before Your Retail Build Out

When starting a commercial construction job for a retail build-out, your customers should be your priority. Failure to plan without your customers in mind is a mistake that could cost you dearly. The goal of making changes to a building to better accommodate your current and prospective […]

Why You Want A General Contractor For Your Construction Projects

There's one thing that's certain in life, and that is that things change. It's also true that very often that change is a good thing. This is true when you're planning to remodel your commercial property. Changing it means you're adding value by updating it to meet […]