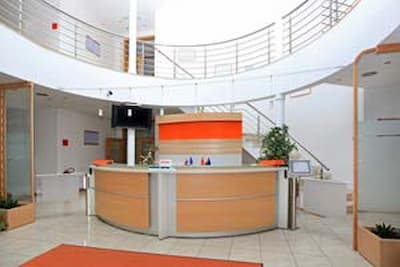 KC Construction & Paint specializes in interior build-outs for commercial clients in Atlanta. We can take your commercial property or office building and ensure it meets your needs, both functionally and aesthetically.
We know not every building meets the needs of the property owner or your commercial leaseholders. As commercial construction experts, we can help you transform your commercial property's interior so that it does meet your needs.
Whether you want a more open layout for better flow or need individual offices designed and built to accommodate your new leaseholder, our interior build-outs can work for you.
Build-Outs & Services Our Expert Commercial Contractors Provide
Our team is the trusted general contractor business in the area that clients rely on for professional renovation and commercial construction services. From painting and moving walls to retail build-outs, we're here to help your business, and our community grow.
We offer interior build-outs and related services, such as:
Office Design
Design Build
Improvement Remodeling
Remodeling
Commercial Construction
Build Out Construction
Renovation
Painting
Moving Walls
Commercial Remodeling
When it comes to finishing out your interior space, we've got you covered. Our professionals provide expert finishes for your commercial property interior.
The inside of your business will look great, attract customers, and be just what you're wanting. We provide full-service build-outs that include finishes such as painting, textures, ceiling acoustics, drywall, stucco, woodworking, trimming, flooring, and so much more!
Why You Need Our Interior Build-Outs & Finishes
KC Construction & Paint is the company that locals rely on for expert interior build-outs and quality finishes. From painting and moving walls to complete design-build, we're here to assist you and your business.
Exceptional quality is not something you find every day because it only comes with caring and experience. But that's what you'll find when you choose to work with our crew.
Our team strives for superior results at every turn. We work hard to give you everything you're looking for in your new space.
We listen carefully to our customers' individual needs and concerns so that we can provide the right design and needs to meet those needs. From start to finish, when you choose to partner with us, we'll help you through the process until you're happy with the outcome.
We know that your commercial facility serves a specific purpose and that as the property owner, you have obligations to your clients. Whether you intend to lease out your commercial space or move your own business in, we can get your area fixed up exactly how you need it.
Call us today for everything you need for interior build-outs in and around Atlanta.
---